At St James we can help with a family baptism, wedding, or funeral.

Holy Baptism or Christening
It is always a very great joy to welcome new members into the Church of Jesus Christ. Baptism or Christening is the opening or gate way into life with Jesus in the fellowship of his Church. Fulfilling the command of Jesus found in the New Testament of the Holy Bible.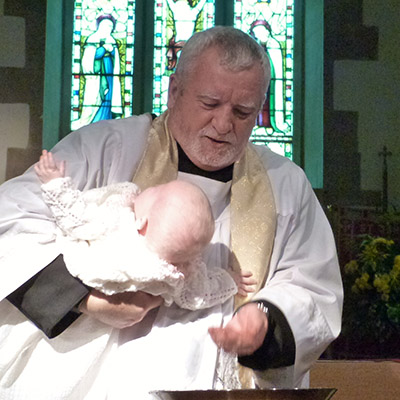 Jesus came and said to them, all authority in heaven and earth has been given to me. Go therefore and make disciples of all nations, baptizing them in the name of the Father and of the Son and of the Holy Spirit (Matthew 28: 18-19)
If you are thinking about Holy Baptism for yourself or a loved one or would like to know more then, please pop along to our church office. Details are on the front page of this site.
Remember it is never too late to be baptised the oldest person Fr John baptized was 95 years of age. So if you are an adult and are thinking about Baptism or you would like to know more do get in touch. We do not hold you over the Font, No Pain or Crane involved!
---